Fitz: My long-time friend and supporter and water guru expert, Rick Allen, on the phone with me from CrystalClear Home. Good morning, Rick.
Rick: Good morning, Fitz. How are you? Hey, I want an invitation to that dinner, though.
Fitz: I'm telling you, man. You know, Barry Minniefeld was on "The Voice" last year, if you didn't know. He was one of the stars of Season 8, he's a desert resident and entertains us out here on a regular basis. And was the executive chef at The Improv in L.A for about 10 years, and became close friends with Jay Leno and Roseanne and a whole list of George Wallace holistic comedians. He has gone on after that opening for them in Vegas, and has forged long-time friendships with them. And he's been talking about all of these culinary taste treats that he whips up and all these different dishes. And I've just been salivating all morning, Rick. So I'm starving right now.
Rick: You're gonna have to have a big lunch.
Fitz: I'm telling you, baby. So Rick has CrystalClear Home, the water filtration system, Barry. Now, as a chef, you'll be interested in this. Because if you have a CrystalClear Home water filtration system in your home, when you rinse those vegetables off and everything, you're not getting any chlorine on them and you're not getting any pharmaceuticals, which is in our drinking water, as you know, these days. You're not getting chromium-6, you're not getting arsenic. This is all the stuff that's in the regular drinking water. But if you had a CrystalClear Home water filtration system, you could drink worry-free from every faucet in your home. You could shower worry-free because, you know, you ingest that chlorine in your body through its pores. Soaks that stuff in.
Rick: And through your lungs too.
Fitz: Through your lung…wow, I didn't even think about that, Rick.
Rick: Yeah, it's all aerosol.
Fitz: Okay.
Rick: So it's in that steam.
Fitz: Okay. It's in the steam, that's right and you suck that in and you're thinking you're taking a nice healthy shower and you feel good. Lord knows what you've ingested. So as a chef, you should check out this CrystalClear Home water filtration system. It'll actually make your food taste cleaner.
Man: What if I rent?
Fitz: What if he rents, Rick?
Rick: Well…
Fitz: Talk to landlord into getting…
Rick: Exactly. Start talking to that landlord and then take it with you when you go.
Fitz: There you go, and take it with you when you go. Talk to landlord. Because it's a unit, they put it outside your property. And it even takes care of the landscaping as well. You use less water, less fertilizer. Makes your landscaping more vibrant green, and you know that salt leaching you see around the pool, those white spots and stuff, gets rid of that as well.
Man: I'm going talk to my landlord about that.
Fitz: There you go. All right, Rick. Did we cover everything?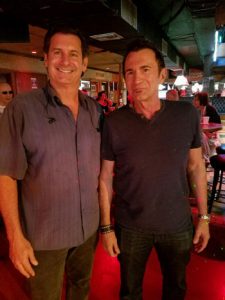 Rick: Well, yeah. I don't have anything to say. I just kind of wanted to take a quick run-down of the five things that we do when we do a total property system.
Fitz: Right, the five points. I love this.
Rick: And you've really touched on them. My biggest passion is getting the chemicals and things out of the bath and shower water because that is the greatest area of exposure to the potentially harmful things. And it is aerosol and in the steam. So you're right. You're taking in through your pores and through your lungs. That's a much more direct shot into the blood stream than me giving you a glass of water with that stuff in it, and you have at least…you've got the digestive track and the organs to do some filtering. But through the pores and lungs, that's not good.
So we're all about creating a chemical-free home living environment and bathing experience, that's number one. And then you touched on it, the drinking water from every faucet. It's chemical-free, we've addressed the heavy metals. It tastes great, it has the natural mineral content left in place and it's slightly alkaline. So somewhere in our desert, maybe 7.6 to 7.8, slightly alkaline. It seems like the health care and longevity guys are on that path right now, that that seems to be the optimum for drinking water. So we wanna give that from every faucet.
And then, you know, we're reducing the hard water issues throughout the interior of the home without a softener. Using a chemical-free, salt-free approach. Doesn't create the slimy feeling like you can't get the soap off.
It doesn't require you feeding big bags of salt into it or any of those things, and it's environmentally friendly. So that's a great way to help protect the asset, protect your fixtures and appliances and get better results in laundry, and dishwashing and all of those things. So those are the kind of the interior things. I thought today I'd just take a second and talk about the last two things that we do in a total property system, and you touched on them.
The first one is landscape irrigation. When you have a total property system, you are able to, first, protect the infrastructure of your irrigation system, your bubblers and your control valves and all of those different things.
And secondarily, you're able to cut back your water usage and your fertilizer usage. In big applications like golf courses that might be using 3,000,000 gallons of water a day, we can actually cut their water volume and fertilizer by about 40% and their pumping costs by somewhere along the lines of like 23 to 27%. It's a tough nut for the golf courses because they have to come up with a chunk of cash.
But it ultimately will probably be something they'll be revisiting, as we continue to deal with imported water and drought conditions and all that stuff. But on your landscape and your house and everything, like you said. Really what you see is everything is much more vibrant and kinda grows like crazy. It's interesting – in a golf community, when you drive down the street, you see houses that have one of our systems and it's kind of the me-too landscaping a little bit in the entryways and things. You'll be able to pick ours out because all the green stuff has grown twice as crazy as everything else and you can really see it. So that's very helpful also, to be able to cut that water volume back. With what's going on with the restrictions, and especially Palm Springs is pretty tight right now. So that's the benefit there.
Fitz: These are great points, Rick. I wanna go back real quick and just to emphasize, and this is something that we don't really think about, but your pipes, a lot of places have old plumbing and old cast iron pipes and fixtures and stuff. And this is a great way, as you said, to preserve your infrastructure.
Rick: Absolutely, absolutely. Sorry, I was just taking a sip of good water there. But yeah, absolutely. Everything that you have and own, this helps to protect it and extend the life of it. And that kind of leads to the last or fifth thing, which you had touched on also, which is swimming pools. Nothing is perfect. Swimming pools are an art piece unto themselves, and they're an open-air body of water, so you're always gonna have some stainings and some issues.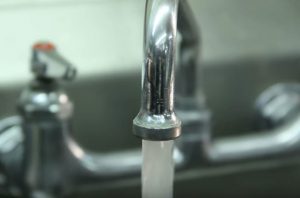 But by having the pool filled and continually re-filled with water through the system, we're able to reduce the staining at the water line.
We're able to actually protect that infrastructure, so the recirculating pumps and all of those different things, and reduce the staining at the spillways on the stack stone and all of those different areas. So that's been quite an added benefit also. In fact, some people buy the system just to try to enhance the beauty of their pool and spa.
Fitz: You see that all the time. It's frustrating for homeowners who have those beautiful stack stone and maybe paver walls and stuff around the pool and then they see all this white leaching and stuff. And that's the beauty of CrystalClear Home is that you don't have to deal with that.
Rick: Well, it really helps. It certainly dramatically affects the surface situation, where water sits on the surface and evaporates. There is this situation where the stone in the desert, water can leach underneath and then it actually wicks up through the concrete. And if the contractors didn't put in a moisture barrier, then what happens is it comes up and it's kind of interesting. It'll create some spotting in the middle of nowhere and you'll kind of wonder. You say, "We don't have any sprinklers there. There's no water there. Why do we have a spot there that looks like we have water?" That's kind of a desert phenomenon. But I actually, in my house on the Coast, have concrete floors and we actually have that occur in certain areas at certain times of the year. So we're super ultra conservative and wanna provide exceptional quality water and everything that we can do.
So we can't deal with anything coming up, but we certainly can deal with stuff…surface-mounted… And like you said, it's sprinkler spraying on a wall, that's kind of one more interesting thing to do when we wrap up. But it seems to me that everyone should be aware that using traditional sprinklers that spray into the air, and you drive by and you see all this mist and everything, how much of that water is really getting to the plant life. So it's quite wasteful. There are rotary sprinklers now that use maybe 40% less water. When you have water ending up on a glass window or on a stone wall, as you mentioned or whatever, part of the issue there is to rethink your landscaping and get that water close to or on the ground. So all the bubblers and rotary sprinkler and things that are out right now. Just go to your Home Depot or your Lowes and ask them for that, you can change your heads out and you'll save up a lot of water. And you'll minimize the problems that occur, especially when water in the desert gets on the glass. That's a real pain to remove.
Fitz: That's so annoying. Rick, I'm going to lobby for you to change your name from Rick Allen to Rick Waterman. Okay? Because you are the water man. Okay?
Rick: I think that's been taken, Fitz, but I appreciate it.
Fitz: I like Rick Waterman, I'm gonna have to lobby for that. 346-4850, that's the number to call to get your own CrystalClear Home water filtration system. You can check them out online, crystalclearhome.com. As always, Rick, great information and a great time of year for people to look into this. You make the process so smooth and we're going through a new installation of another place where we're gonna have your product, which I'm excited about. We're gonna talk about that when it's all done and will be posting some pictures on Facebook and everything and show everyone that Wendy and I do walk the walk and talk the talk.
So crystalclearhome.com or 346-4850, ask for Rick. If he's not around, he'll get back with you and you'll answer anyone's questions. You know so much about this. I'm so impressed and the water is coming up in the conversation big time, with the drought and everything that's going on with our water in the valley here. You are the water man. 346-4850, always a pressure, Rick. Once again, thanks for all your support and…
Rick: We're gonna see you on Sunday. Aren't we?
Fitz: Yes.
Rick: In a different capacity.
Fitz: Yeah. I'm looking forward to jamming with you in the Pinch Me! band at Pierce Street Annex, 17th Street in Costa Mesa for OC homies. If you're around, come on by and have some fun. We'll be there late afternoon.
Rick: That's sounds great, Fitz. Looking forward to it and appreciate talking to you, as always.
Fitz: Thank you so much, Rick. Thanks for the support and we'll keep spreading the word for you.
Rick: You bet. Thanks.
Fitz: All right, man.
Rick: Bye-bye.